Now that we have two kids I find myself running out of space on the refrigerator. We have already lost two pieces of the magnetic barnyard to the unknown depth under the fridge.
My solution to my space issue is to make Missy Priss a magnetic board to hand off her changing table. This will allow her to have her learning magnets in her room where I can easily reach them if she decides throw them under something.
Supplies Needed:
Large Glass picture frame
Magnetic Spray Paint
Ribbon
Color Spray Paint (optional)
Mod Podge and sponge (optional)
Scrapbook paper (optional)
Step One:
Spray your magnetic surface. I sprayed my paint directly on the glass. I followed the instructions on the can. After 3 coats of paint and the magnets still weren't sticking, I decided to spray my coats on a little thicker. I used almost the entire can of spray paint on my glass.
Step Two:
Decorate…
If you want to use an additional color of spray paint, then after the magnetic paint dries…go to it.
If you want to add some pretty paper, then take your Mod Podge and sponge and apply to the back of your paper. Stick the paper to the board and then add another coat of Mod Podge. I am sure this will affect how magnetic your board is, so you may want to do this is small sections as cute decorations…i.e. flower, butterfly, car, truck, whatever you desire.
Step Three:
After everything is dry and looks perfect, or as close as you can get in my case, put the glass back in to the frame.
Step Four:
Hang your board.
Step Five:
Attach magnets and have FUN!!!
Happy Crafting!!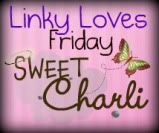 "
Finding Fabulous
Linked to