It has been a hot summer around these parts and the heat will probably be hangin' around for a while longer too. I don't have very many sleeveless tops so I decided to make a tank top from a cute pillowcase that I found at a local thrift store.
I really like the loose fitting shirts I have been seeing lately...they just look comfortable. With the heat and potential melting I will be doing the rest of the summer comfort is a big priority for me.
I started by laying out my pillow case and flattening it. This little hands are from Miss C who wanted to help out on this project!
The I cut the top off of the pillow case. This left me with 16 1/2 inches of pillow case remaining. I folded my pillow case in half so that the cutting would go quicker.
Next I measured my chest and added two inches. I cut a strip of my accent piece (an old white sheet that I also got at the thrift store). I also cut my accent piece 4 1/2 inches wide.
After this I sewed the ends together using a French seam.
First, with the material wrong sides together sew with a 1/4 in seam allowance. Trip the excess fabric away from the seam allowance.
Second, turn the material inside out (right sides together) and sew with a 1/8 in seam allowance. Then flip the piece right side out.
With both the accent and pillow case pieces turned inside out pin the side seams together. Continue to pin the two pieces together along the back of the shirt. Once you get to the other side flip the shirt over.
Continue pinning. My pillow case was bigger than my accent piece so I created little pleats on the front of the shirt. If you do something like this make sure that you find the middle of the accent piece and pin it to the middle of the pillow case. Then arrange the pleats with the excess fabric from the pillowcase.
Cut two pieces of accent fabric for your straps. You will need to measure how long your straps need to be, mine were 17 in long and 4 in wide. Sew the Strips together lengthwise and flip with the wrong sides together. Flip right side out.
Now it is time to pin down the accent piece. I created a little cuff. While doing this you will want to attach your straps. I tried on my top to make sure my straps were placed where they need to be.
Sew the straps in place. I unpinned the cuff around the straps and sewed a box pattern to help secure the straps.
Then I sewed the cuff down around the entire shirt. I also made some fabric flowers and sewed them on the front to look like buttons.
Here is my final look!
I can't wait to wear it!!!
Happy Sewing!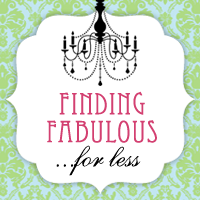 Idea Sharin' Wednesday

<center><a href="http://www.crystalscraftspot.blogspot.com/"><img border="0" src="http://i766.photobucket.com/albums/xx302/scharris21/21600112b.jpg" /></a></center>