I have seen these before and I thought I would try my hand at making a coffee cup cozy for my BIL.
Whatcha' need:
Felt/Fleece/Batting ( I used a fire proof batting from a previous project)
Crochet Thread (for monogramming)
Needle for monogramming
Scissors or rotary cutter
card board cozy template (i used an old one from Starbucks)
Button and an elastic
I started by taking my template and placing in on my fabric and cutting out my shape. I would suggest you make the cozy a little bigger than your template to allow for seam allowances. I didn't do this and my cozy is a little smaller than I would like, but it works just the same.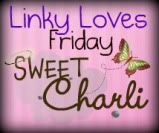 "