I know several prego people right now...and most of them are expecting little girls. When I stumbled upon this super soft fabric at Hobby Lobby I just had to snatch it up...$3.60 for 1/2 yard.
I knew this would make a perfect baby blanket. It will be just the right size to cover a little lap in a car seat.
Here is the material I used.
1/2 yard of soft fabric, coordinationg ribbbon for the edges, and coordinating thread.
First, I folded my fabric in half and trimmed the edges into an even line. (Note: Be careful-I have read of some cutting misshaps with rotatry cutters this week, it has made me a little nervous.)
Second, I measured my ribbon and cut seperate seciont for each side. You could probably measure and cut one piece, but I was afraid I wouldn't get it on straight.
Third, I folded my ribbon in half and creased it.
Fourth, I placed the ribbon around the edges and pinned in place.
Lastly, I sewed the ribbon onto the blanket.
And your done...you have a perfect gift for a baby shower, or new baby!!
Mine cost less than $5 to make.
Happy Sewing!!
--Amy
Linked to: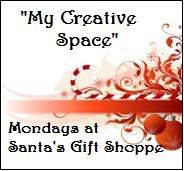 "/>